Back from a week's vacation.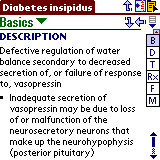 What's new in the Palm Medical PDA World?
Skyscape
has come out with 5 Minute Clinical Consult 2003 and it is not 2003 yet! Looks like a major revamp. Images now optional.:
Description
5MCC™ 2003 is the handheld version of Griffith's 5-Minute Clinical Consult 2003, an invaluable and unique clinical reference for students and practitioners. It covers thousands of topics that are indexed with terms and medications so that you can find the information in a quick and professional manner. Review the Basics, Diagnosis, Differential diagnosis, Treatment, Medications, Follow up, and important miscellaneous considerations when you use this reference on your favorite handheld device.
Download a trial