Nothing to do with General Practice and not really medically related (golf aside!) but I did get myself a new toy recently - an
Ambicom Bluetooth GPS (Global Positioning System) receiver
My Tungsten T3 connects with it flawlessly.
I use
Mapopolis
quite a fair bit to guide me when I travel around the city and find it useful when I wish to look up various places. Now with the GPS unit, I can quickly centre my location on the Mapopolis map. This is a view of the hospital where I work :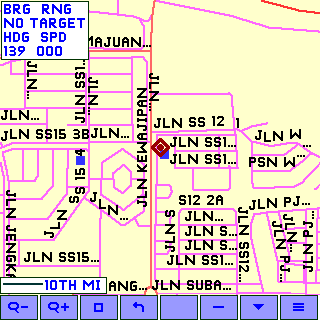 Location: N3º 4.7 E101º 35.6
What else can you do with a GPS? I don't play golf but so many doctors do that golf is almost synonomous with the medical profession ;)
Now with
iGolfgps
you have another tool to help you lower your handicap
iGolfgps is a "Must Have" for any golfer serious about lowering their score. Using a GPS receiver and a Palm or Pocket PC, iGolfgps provides golfers with distance measurements to the front, center and back of a green, assisting in the appropriate club selection for the remaining distance. Also included is the option to select up to four customizable locations, such as water hazards and sand traps. Another feature is the scorecard for up to four golfers.
Of course if you are into sailing, fishing, hiking, jungle trekking then the GPS should come in very handy. There is a freeware Palm navigation and positioning software called
Cetus GPS
which works well with Bluetooth GPS units.
And lastly if you are really bored, there are
16,000 other things you can do with a GPS
....
Have a good weekend!